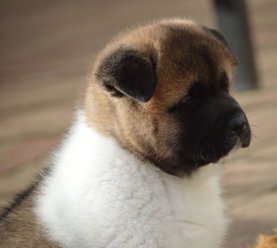 How it all began?
It all started in March 2012... I bought my first wire haired dachshund. Just wanted a little dog in the house and to do some obedience training.
Everything changed after my first dogshow with him. I really enjoyed going to show and not even a year later there was a 2nd dachshund in our home. A smooth haired this time imported from the UK. My first dog just for show! As you can imagine, it didn't stop there, yes there is a 3d dachshund, also a smooth imported from Russia. They are all 3 amazing and handsome boys and I really enjoy going to show with them! .
But at every dogshow I enjoyed seeing those big dogs in the ring! For me it was a dream to have such a big dog for show...
My boyfriend doesn't like dogshows so I just started my search top secret style :-) . I looked at a lot of big dogs but there was one that I just couldn't get out of my mind.... The American Akita...
So I looked at A LOT of breeders' sites!!! Both far away as well as nearby I saw a lot of great dogs....
I contacted Marcel en Lene Huls from Dynamic Force Akita's and we started talking about future plans! I informed my boyfriend that I was on the waitinglist for an American Akita and in October whe got the great news our little girl was born!!
Dynamic Force Take My Breath Away is coming to live with us!!
Thanks Marcel and Lene for this great opportunity with this awesome little girl!!!
I will keep all the news here on my site up to date so you can follow our stories
Regards Christy.